PUBLIC AUCTION
ANTIQUES-GUNS-ART-ARTIFACTS-COINS
TO BE HELD AT WOODWARD & ASSOCIATES
618 3RD ST
RAWLINS, WYOMING
SATURDAY MAY 4TH, 2019
SALE WILL START PROMPTLY AT 10 A.M.
WE WOULD LIKE TO INVITE YOU TO OUR SPRING GUN-ARTIFACT-ART & COIN AUCTION. WE WILL HAVE APPROXIMATELY 50 GUNS, BOTH MODERN AND COLLECTABLE, A VERY FINE COLLECTION OF AMERICAN INDIAN ARTIFACTS, OVER 50 LIMITED ADDITION PRINTS INCLUDING 29 VIVI CRANDALS AS WELL AS CAMPERS, PICKUPS AND A FEW ANTIQUES. THIS SHOULD BE A GREAT SALE FULL OF QUALITY ITEMS.
SOME OF THE ITEMS TO BE SOLD: FIREARMS: Look on the back of the sale bill or at the bottom of the web page for listing. We will update at more guns come in. ARTIFACTS: 19 frames of arrowheads, including metal trade points, spear points, obsidian stemmed point, Tonto Basin points; 10 strings of trade beads; 3 frames of military buttons and bullets, some from Fort Fred Steele; 5=6 Frames of artifacts, custom frames, very nice display art pieces; ART: 51 limited addition numbered prints, in original sleeves w/ certificates of authenticity from 1980's to early 1990's—29 Vivi Crandal's- Edge Of The Storm, Heads or Tails, Northern Lights, Pickled Tink, Sweet Cheeks, Teddy McBear, The Billy Club, Skinny Dippin, And Fancy Free, Perfect Size 7, Indian Summer, Snow Blind, Cotton Balls, Royal Flush, Queen of Hearts, Moon Struck, Tom & Jerry, Studs, Spit Shine, Danger Zone, Hot Cross Buns, Thunder Run, Buddy System, Dew Drop Inn, Tunnel of Love, Bull Rush, Foot Loose, Runnin on Empty, Flat Out; Charles Brenders-Roaming the Plains and The Companions; Sarah Woods- 11 ea. Country Gentleman and 1 ea. Swans In Yellowstone; Charles Wysocki- Dreamers, Bostonians & Beans as well as 1987, 1989 and 1991 Christmas Prints; Robert Bateman-The Challenge-Bull Moose; Brian Jarvo- Risky Crossing; ANTIQUES & COLLECTABLES: Collection of very old Hat Pins; Snuff Boxes; several pieces of collectable glassware; New Randall Bowie Knife, made in 1960's; 15 Morgan Silver Dollars, 1884 to 1899; 9=$1 Silver Certificates, 1935 series; 6=$2 Bills, 1953 Series; roll of 1976 Centennial Kennedy Halves; 1967 U.S. Mint set; 1989 Silver Eagle proof; 1989 Silver Eagle proof; 110 Indian Head Pennies, 1919 to 1937 and 3 Flying Eagles, 1957 & 1958, in three groups; United States 20th Century Coin set w/ 31 coins; Antique traps, #3 Victor double spring, #3 Oneida/Victor double spring, #4 Oneida US Gov't issue double spring; VEHICLES & CAMPERS: 2013 Nissan Frontier 4x4 pickup, runs great; 2007 Chevrolet 1500 Silverado extended cab pick-up, 4x4; 2013 Travel Lite 800SBX cab-over camper, very nice; 1994 FleetWood Wilderness 22 ft. bumper pull travel trailer, good condition; 1957 17 ft. Mallard camp trailer, collectable in excellent condition; wooden spoke wheel horse drawn supply wagon, late 1800's in very good condition; 1990 Sun Tracker 24 ft. Party Barge pontoon boat w/ trailer & 110 HP Evinrude outboard motor; 3 Ford F250 Super Duty 4x4 pickups, all with flat beds, standard cabs, custom bumpers, 7.3 L V-8 Power Stroke diesel motors, 2001, 2002, 2003; 2009 Ford F250 Super Duty 4x4 pickup, extended cab, flat bed, custom bumper, headache rack; 7.3 L V-8 Power Stroke diesel motor; MANY MORE ITEMS TOO NUMEROUS TO MENTION!
EVERYTHING SELLS REGARDLESS OF PRICE-NO MINIMUM-NO RESERVE!!
NOTE: This is just a preliminary sale bill for this sale. Watch the Web Site for continued updates and pictures. We have several more gun lists, some additional vehicles and a few other items still to come in. This should be a great sale. Hope you can make it!!
WEB SITE: Log on to woodwardauctions.net for the most up to date sale bill and pictures.
INSPECTION: Thursday May 2 and Friday May 3 from 8:30 a.m. to 5:30 p.m. and morning of sale.
TERMS: Cash, cashier check or personal check with positive I.D., MasterCard-Visa-Discover Card. Full settlement day of sale. All merchandise must be removed day of sale unless arrangements made with auctioneer. Everything sells as is/where is without warranty either expressed or implied. All sales Final! Statements made at sale preclude all advertised material. NO BUYERS PREMIUM!
WOODWARD & ASSOCIATES AUCTIONEERS
618 3RD St.
(307) 324-3710 RAWLINS, WYO. 82301 1-800-233-1596
PROFESSIONAL AUCTIONEERS—OVER 49 YEARS IN THE BUSINESS!
AUCTION GUN LIST
May 4, 2019

COLLECTOR FIREARMS: Winchester Model 1906 .22 pump; Winchester Model 1892 44x40 rifle, octagon barrel, made in 1904; Winchester Model 1892 25x20 saddle ring carbine, round barrel, made in 1915; Winchester Model 1894 30 WCF saddle ring carbine, made in 1921; Winchester Model 94 30 WCF saddle ring carbine, 1923 firearm, very nice; Winchester Model 1894 32x40 rifle, round barrel, 1st year production gun, 1894; Winchester Model 1873 44x40, octagon barrel, made in 1889; Winchester Model 94 saddle ring carbine w/ oversized loop lever; Winchester Model 12 .20 ga. pump, field model w/full choke, 1953 shotgun; Winchester Model 37 .12 ga. single shot, full choke; Parker Bros. side-by-side 10 ga. w/hammers and Damascus steel barrels; J. Stevens .22 S. L or LR hammer pump; Springfield .22 single shot boy's rifle, straight bolt; Harrington & Richardson .410 single shot shotgun; Stevens 32 Long rimfire rolling block single shot, very unique; Mossberg Model 45M .22 bolt action, tube fed w/full stock; WWII Japanese military rifle; Walther P-38 9mm, made in W. Germany, post war production; American Crescent Arms Double action .38;

MODERN FIREARMS: RIFLES: Brand New Weatherby Mark V 300 Weatherby Mag.; Weatherby Mark V 7mm Weatherby Mag.; Ruger M-77 7mm Rem. mag.; Remington Model 770 7mm Rem. mag.; Remington Model 770 .243, like new; Howa Axiom .223 w/target barrel; Ruger AR15 .223/.556 semi-auto assault rifle; Universal M-1 Carbine .30 cal w/ 15 round magazine; Mossberg Model 703 Plinkster .22 semi-auto; Remington Model 33 .22 single shot; Savage Model 30 .22 single shot; Remington Target Master Model 510 .22 single shot; Knight .50 cal. In-Line black powder; CVA Hawken .50 cal percussion rifle; Thompson Center Hawken .50 cal percussion rifle;

SHOTGUNS: Remington Model 870 3" .12 ga.; Mossberg Maverick 3" .12 ga. pump; Remington Model 870 .20 ga. pump; Saiga Lynx .12 ga. semi-auto, new in box; Stoger .410 side-by-side, new in box; Stevens Model 77E .410 pump, 3"; Iver Johnson single shot .410, 3"; Western Field .12 ga. pump; Stevens Model 311 .20 ga. side-by-side;
HANDGUNS: Kimber K-6 .357 mag. Revolver, new in box; Springfield Armory XD 9mm, new in box; Remington Model 1911-R1 .45 ACP; Ruger LC9 9mm; Star BM 9mm; Taurus TCP .380; Heritage Arms Rough Rider .357 mag. single action revolver, new in box; Chiappa 1873 Single Action Army reproduction in .22 LR, new in box w/antique finish;

MISC. ITEMS: Horton Explorer XL150 cross Bow with case; Selection of gun and pistol cases;
Note:

We are required to do background checks on these firearms.

We accept FFL licenses and Wyo. conceal permits.
Buyers of long guns must be 18 yr. of age and US citizens. Buyers of hand guns must be 21 yr. of age and a resident of Wyoming or have an FFL.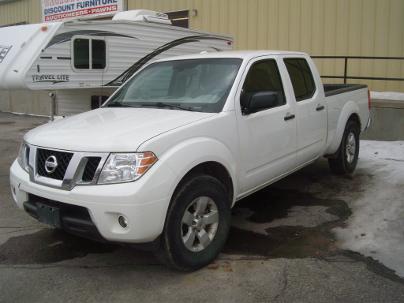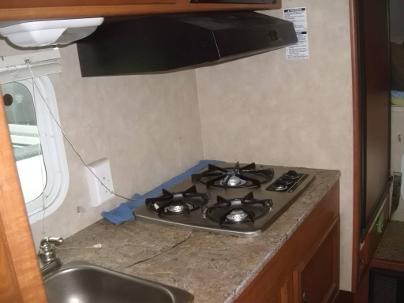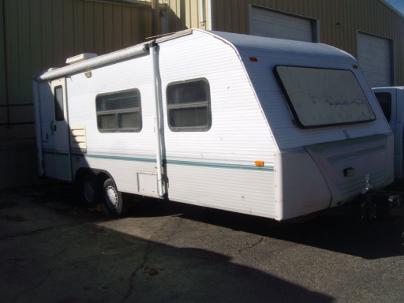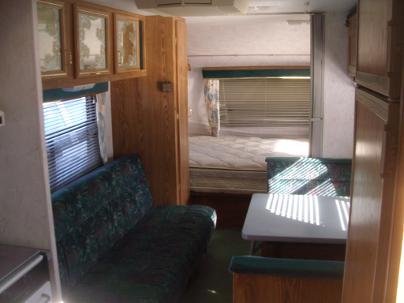 INSIDE 22' FLEETWOOD CAMPER TRAILER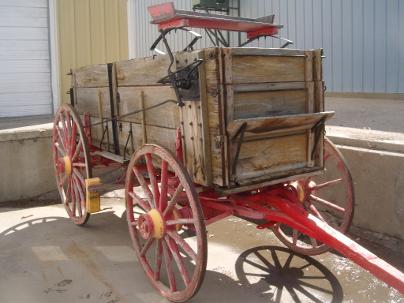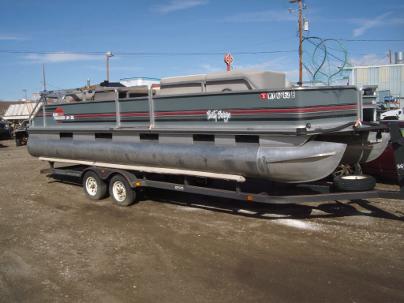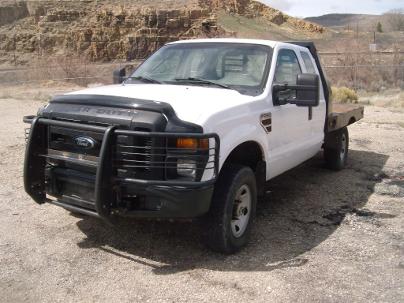 2009 Ford F250 Power Stroke Diesel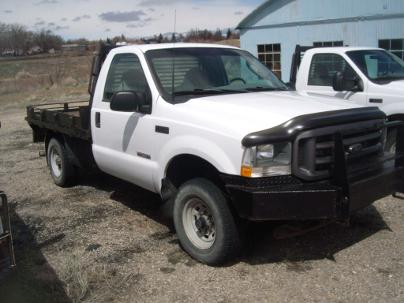 2003 Ford F250 Power Stroke Diesel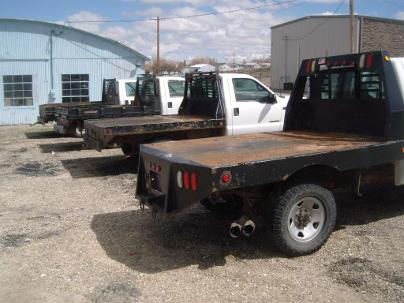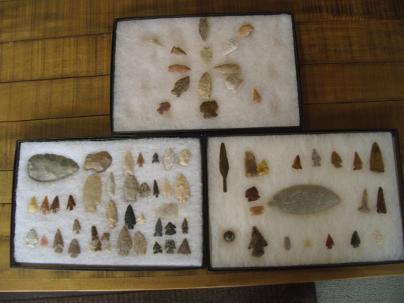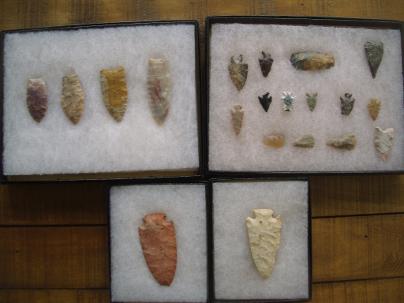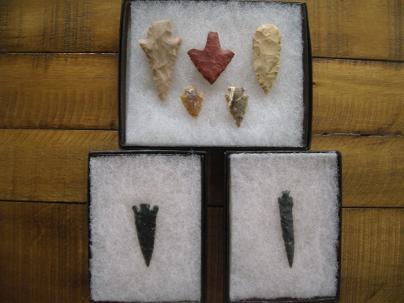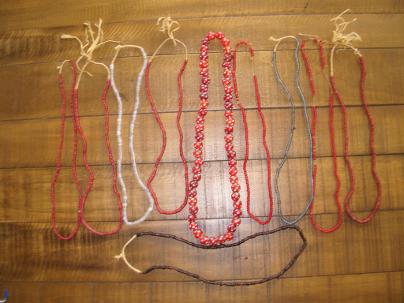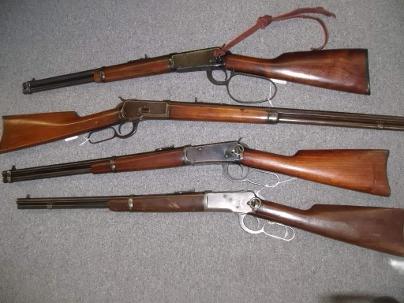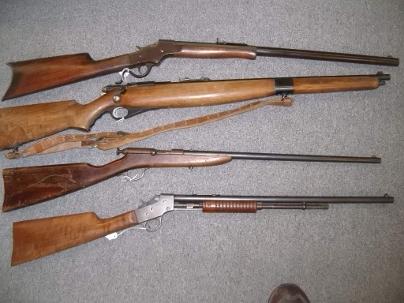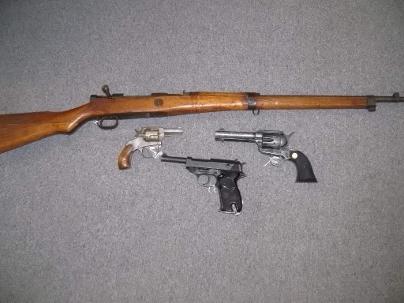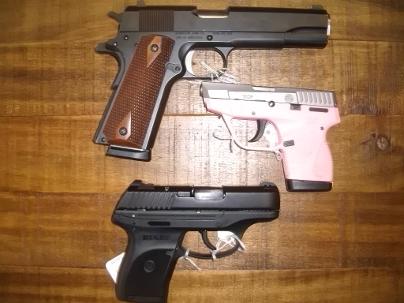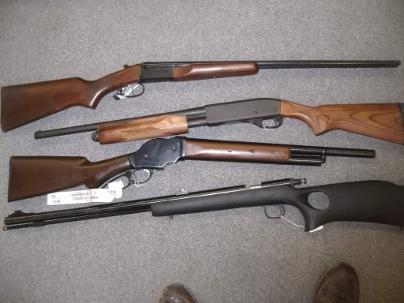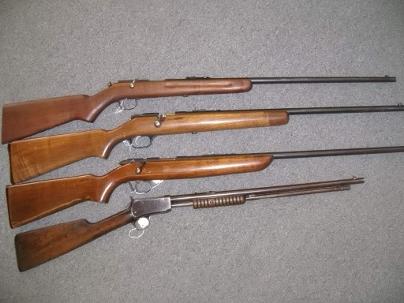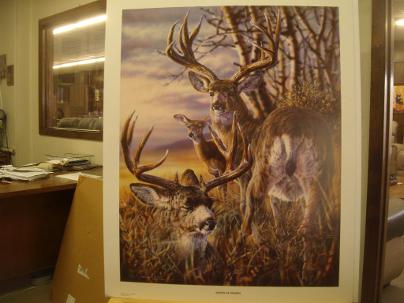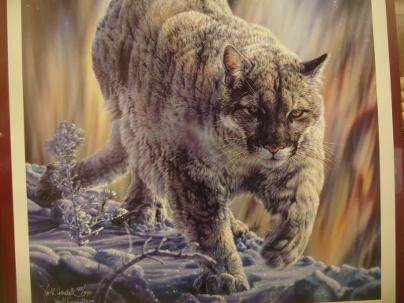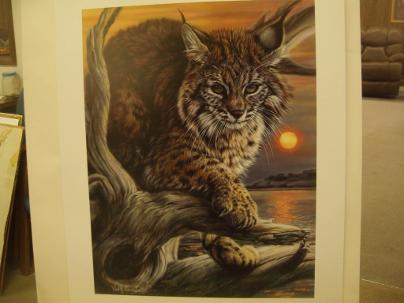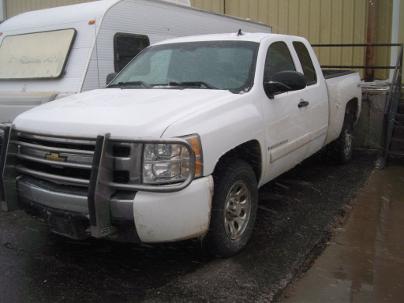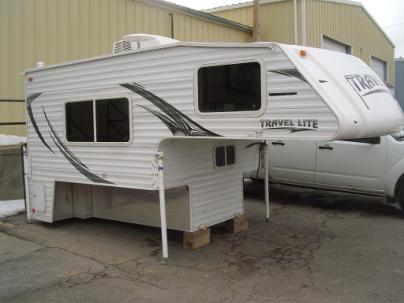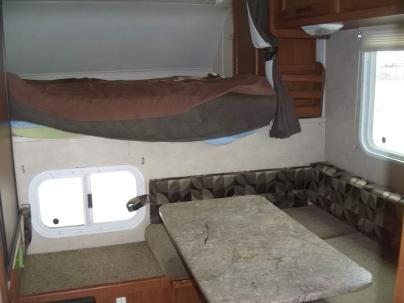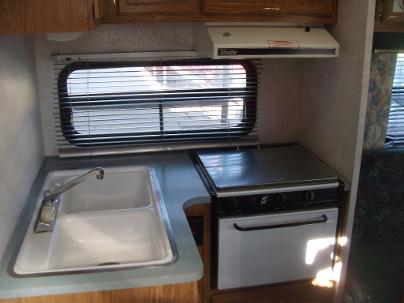 INSIDE 22' FLEETWOOD CAMPER TRAILER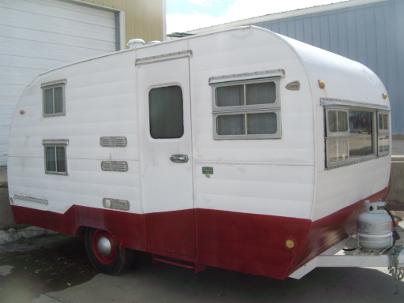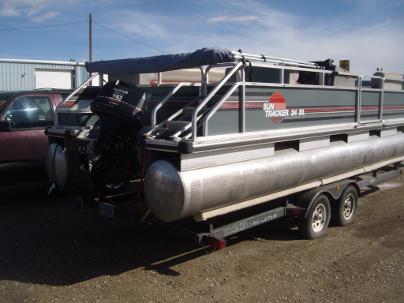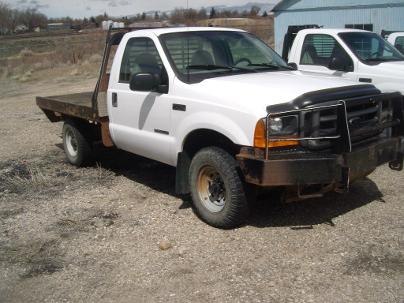 2001 Ford F250 Power Stroke Diesel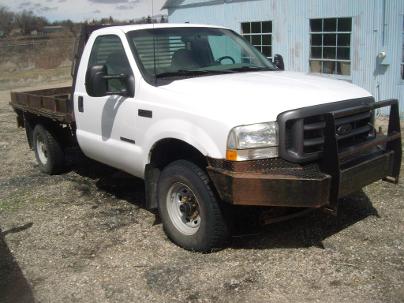 2002 Ford F250 Power Stroke Diesel